The Clemson University Industrial Assessment Center (CL-IAC) provides free energy, productivity, and waste assessments to small and medium sized industrial facilities through funding provided by the US Department of Energy.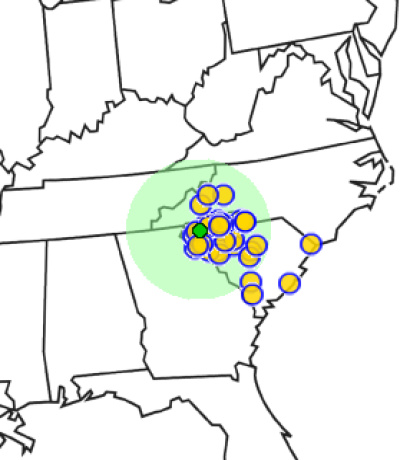 | | |
| --- | --- |
| 50 | Assessments |
| 213 | Recommendations |
| 0.67 | Tbtu Energy Saving* |
| $4.39 | million Cost Savings* |
| 57 | Students Trained |
*Recommended Savings
Energy Engineering related programs, degrees, etc:



Center Director
Michael Carbajales-Dale
Email
IACClemson@lists.clemson.edu
Phone #
+18646563529
Fax #
n/a
Mailing Address
482 Sirrine Hall
Clemson, SC 29634
| | |
| --- | --- |
| Other | David Ladner |
| Other | Elizabeth Carraway |
| Other | Kumar Venagayamoorthy |
| Assistant Director | Phil Litherland |
| Other | Yongjia Song |
Clemson University has trained 57 students
The following students have participated in IAC assessments with Clemson University since 2003, when student name tracking began.
The 9 students (in BOLD) have also been awarded IAC student certificates for exceptional participation.
Aaron Shepard
Aashay Mahesh Mehta
Akhil Gopireddy
Akshita Patlolla
Alexis Chickoree
Andrew Dugan
Andy Le
Ankit Shah
Ashley Martin
Autumn G. Brown
Barbara Astmann
Ben Snelson
Britney Tsui
Chakararajan Madhusudanan
Cole Roberts
Deeksha Narayan
Digvijay Redekar
Ehitohan Iyile
Elizabeth Marrs
Grace Wachowski
Hadi Karimi
Harish Srinivasan
Harsh Shah
Ishan Doshi
Jack Crocker
Jacob Parker
Jacob Patterson
Jacob Wortkoetter
John Sherwood
Johnson Vo
Jushawn Macon
Kelsey Stuhn
Kevin Srimoungchanh
Lakshana Nagaraj
Lingyun Peng
Manil Shah
Mary Boken
Matthew Dayton
Meet Malkan
Meg Otersen
Mitchell Hullihen
Murgesh Awati
Parthiva Mondrety
Prachi Muttha
Prina Diddee
Rachella Mariano
Rohith Varma Nandimandalam
Sankeerthana Panicker
Satvik Dhumal
Shaiane Tran
Shangarab Bera
Sophia Lanham
Thomas G. Garrigan
Tom Browning Love
Vikas Garg
Yash Srivastava
Zachary HemaNN
Apply for an IAC Assessment
Specific Eligibility Requirements*:
Must be a US Manufacturer
Yearly Energy Bills:

Greater than $100,000
Less than $2,500,000

Within 150 miles of an IAC
*For special cases, certain requirements may be waived.
Final client selection is left to the discretion of the individual IAC center.