Implementation Grant Funding Opportunity Open
IMPORTANT: The grant program now operates on a rolling basis and applications may be submitted at any time through the year, with quarterly reviews starting with December 31, 2023
Implementation Grant Funding Opportunity Open
Qualifying* small and medium-sized US manufacturers, that received IAC or Combined Heat and Power Technical Assistance Partnership assessments between 2018 and 2023, can now apply for grants for implementation of assessment recommendations up 50% of qualifying* project costs with a maximum of $300,000 per manufacturer.
IMPORTANT: The grant program now operates on a rolling basis and applications may be submitted at any time through the year, with quarterly reviews starting with December 31, 2023
*See Full Grant Solicitation for full qualification and selection details.
The Georgia Institute of Technology Industrial Assessment Center (GT-IAC) provides free energy, productivity, and waste assessments to small and medium-sized industrial facilities through funding provided by the US Department of Energy.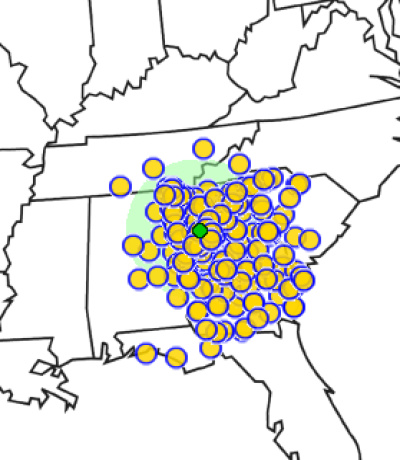 Georgia Institute of Technology also coordinates a Satellite IAC Center at:
Florida A&M University – Florida State University



Center Director
Comas Haynes
Email
comas.haynes@gtri.gatech.edu
Phone #
+14044077578
Fax #
+14044078569
Mailing Address
75 5th St NW
Suite 300
Atlanta, GA 30332
| | |
| --- | --- |
| Other | Jason Clarke |
| Assistant Director | Juan Ordonez |
| Other | Katerina Dimovski |
| Assistant Director | Kelly Grissom |
| Assistant Director | Omar Faruque |
| Other | Randy Green |
| Other | Sandra Enciso |
Georgia Institute of Technology has trained 200 students
The following students have participated in IAC assessments with Georgia Institute of Technology since 2017.
The 22 students (in BOLD) have also been awarded IAC student certificates for exceptional participation.
Achin K. Chugh
Adam Blizzard
Alex Zhukov
Allen Brown
Allistair Graves
Amelia A. Case
Amrita Basak
Andrea Hogue
Andrew Frisch
Andrew Kent
Andrew Martinez
Andy Riddle
Ansley Heard
Ashleigh Wright
Atman Buch
Bari Ewing
Ben McDonald
Ben McWhorter
Ben Peterson
Blake Bright
Bochun Guo
Brad Lawrence
Brandon Poulton
Brannen Butts
Brian Giles
Bridget Andrews
Bryan Pennamon
Bryan Spalla
Cameron Poole
Cameron Small
Caroline Dambrogi
Carrie E. Duncan
Carson Dobbs
Catherine Drew
Charles Kennedy
Chris Bunyasaranand
Chris Clarke
Chris Coleman
Chris Mimbs
Chris Pearson
Christine Argo
Christine Primmer
Connor Trembley
Cory Reissig
Courtney L. Lambert
Dan Waugh
Daniel Genovese
Daniel Hubbart
Daniel Keslensky
Daniel McCain
Daniel Ross
David A. Sauer
David Bennett
David Carter
David Gehring
David Jacob Fannon
David McNicoll
Diego Lombana
Douglas Sherline
Drew Baker
Ed Hardison
Elias Margonis
Elliot Price
Emily Muhlberger
Eric D. Loyd
Erica W. Onsager
Erika Larson
Fabio Campos
Félipe Roman Morales
Frank Fearon
Frank Johnson
Gared Colton
George Lee
Hassan Haddad
J.J. Anderson
Jacob Townson
Jacquelyn Knotts
James McGregor
James Nafraicheur
James Rudd
Jamie Ledyard
Jared M. Grace
Jared Monroe
Jason E. Jennings
Javier Villa
Jay Gardner
Jay Rudd
Jeff Croxall
Jesse Foley
Jesse Hill
Jessica Grayson
Jinesh Patel
Jingchu Chen
Joann Stinchcomb
JoDe Cummings
Joe Buratto
John Baronowski
John Harper
John Reap
Johnathan Wisehart
Jonathan Chihoski
Joselyn Ray
Joseph Harper
Joseph McMillion
Joseph Sanchez
Joshua Gillespie
Joshua Tarbutton
Joshua Thalheimer
Juan Ospina
Julian Felipe Arbelaez
Justin Edwards
Justin Ford
Justin Potts
Kathryn Forsyth
Kathryn Harper
Katie Larkin
Kelly Grissom
Kendall Parker
Kenneth McKay
Kevin Lindquist
Kevin Ray
Kun Taing
Levi Hoiriis
Lindsey Rodrigues
Lipkong Yap
Lipyeow Yap
Lisa Lichtenauer
Logan Bennett
Marcus Suri
Matt Mercer
Matthew Foster
Matthew Jordan
Micah Hensley
Michael Buff
Michael F Carrillo
Michael Fritts
Michael Himmelein
Michael Rotolo
Mikaela Van Avery
Mike Tobias
Mindy Ren
Nagashumrith Vinakollu
Nash Bonaventura
Natasha Cvetkova
Nick Giglio
Nick Karnezos
Nicolai Jones
Oluwatofunmi (Toffee) Jegede
P. J. Newcomb,
Patrice Robinson Davis
Paul Crumpler
Paul Socha
Philip June
Pierpaolo Baldisserotto
Pimjai Hoontrakul
Puneeth Kumar
Rachel Provost
Reanna Rafiq
Richard Clubb
Richard Warren
Robert Barrentine
Robert Kulisek
Robert Thiets
Roger Burggrabe
Rohit Vardhan
Ryan Hurley
Rylan Caskey
Saikamal Srinivas
Samuel Czerwonka
Sarah Panitz
Scott Herdic
Sean Kwak
Seth A. Garner
Sharad Rathnam
Sinan Sinharoy
Sneha Varughese
Sreya Srinivas
Stephanie Peng
Stephen Geyer
Stephen Hawkins
Stephen Markey
Steven Rogers
Summer Bain
Tadeu Fagundes
Taylor Jimenez
Theo Sanchez
Thomas Busbee
Tim Crabtree
Timothy Hollman
Timothy Li
Travis Iams
Trey Kennard
Ty Watson
Tyler Pilet
Valerie Lie
Walker Inman
Wei Jiang
Will Randall
Yasmin Martins
Zenobia Sarkari