The University of Florida Industrial Assessment Center (UF-IAC) provides free energy, productivity, and waste assessments to small and medium sized industrial facilities through funding provided by the US Department of Energy.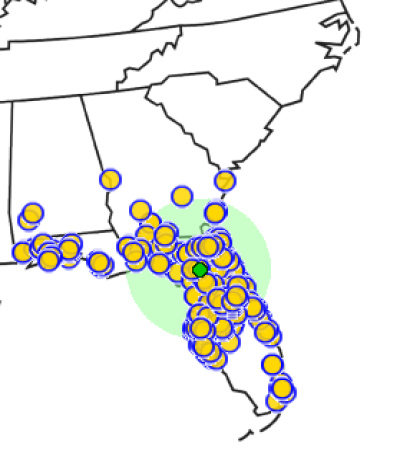 Assessment -
Case Studies
Center Director
Dr. SA Sherif
Email
sasherif@ufl.edu
Phone #
+13523927821
Fax #
n/a
Mailing Address
Department of Mechanical and Aerospace Engineering, University of Florida
P.O. Box 116300
Gainesville, FL 32611
| | |
| --- | --- |
| Assistant Director | Dr. Cristian Cardenas-Lailhacar |
University of Florida has trained 159 students
The following students have participated in IAC assessments with University of Florida since 2003, when student name tracking began.
The 50 students (in BOLD) have also been awarded IAC student certificates for exceptional participation.
Aayush Mittal
Abhilash Muthyala
Adnan Alosaimi
Adnan Fatehi
Ahmad Mahmoud
Ahmed Alqattan
Ajaykiran Sirimallu Rajagopal
Alexandra Bonilla
Allen Mathis
Amey Kelkar
Amit Agarwal
Amlan Mahamallik
Andres Bihan Thomas
Andres Morales-Vargas
Aniket Chitte
Aniruddh Shrikrishna
Anton Davis
Anubhav Singh
Aojia Jiang
Arash Shad
Aravind Subburathinam
Arif Islam
Avni Rakesh Mehta
Ayyoub Mehdizadeh
Baalaganapathy Manohar
Bahvana Banjeree
Ben Smith
Bogi Bhageerath
Brandon Lowe
Brett Dickstein
Carlos Estrella
Carolina Padilla
Chan-Wen Chiu
Charles Chacko
Christine Bursey
Cinthia Perez
Claudia Escobedo
Constanza Soto Gomez
Cristina Arimany
Darinka Butirich
Darshan Gabani
Darshan Girase
David M. Winsberg
Dieudonne Mann
Edward Rios
Fawaz Alhomaidan
Fotouh Al Ragom
Freddy Sarmiento
Gary-Gregoire Coquillo
Gaye Kidan
George Gonzalez
Gladys Athina
Gordon Taub
Gretel Barany
Hassan Alashwan
Heather Mevers
Hemanth Kumar Murugesh
Henash Patel
Howard Wang
Isabel Esguerra
Jake Gipson
James Holladay
Janani Kalpaki
Janhavi Agashe
Jatin Lamba
Jingwen Wang
Jithin Gopinadhan
Joey Zamora
John Rodriguez
Jorge Habib
Jose Landivar
Kamlesh S Porel
Kanva Rawal
Kanwar Bajaj
Kavya Navaneetha Krishnan
Kimberly Schlitt
Kolaleh Torkaman
Krystal Harriot
Kunal Surana
Laura Locke
Lynnae Hughes
Mahsa Farzaneh
Manasi Shinde
Manuel Morales
Marcos Tapia
Maria Arias
Marisa Arvesu
Mathilde Miroir
Matteo Raineri
Mayuresh Churi
Meet Parikh
Mekha Menon
Menelik Saint-Fleur
Michelle Hernandez
Midhun Thomas Vergis
Mike Rademaker
Mohammed Suleman Shariff
Mojan Daneshmand
Mousa Mirehei
Moussa Mirehei
Nestor Santiago
Nikhil Kumar
Ning Tang
Nishant Muley
Pankaj Patil
Pierina Moreno
Pilar Lamarque
Poris Bharvath Raj
Pratham Deepak Nayyar
Rahul Chaurasia
Ramanathan Dharmarajan
Richard Barrow
Robert Eaton
Rohit Bhagwat
Rushabh Bharatkuma Mehta
Ryan Smith
Sagnik Seth
Sameep Singh
Sameer Desai
Sameer Khan
Sangkyu Lee
Shalu Dagar
Shankar Venkat
Shaun Linus Tauro
Sherif Kandil
Shreyas Muralidharan
Shubham Kohle
Siamak Mirmasoumi
Siddhartha Vasireddy
Siddhika Chunchuwar
Sourya Dutta
Suchi Patel
Suril Thaker
Swanand Tendulkar
Swapnil Patil
Swaroop Thavva
Tabitha Robinson
Taofeek Biobaku
Terrence J. Hornsby
Todd Cooper
Todd Rio
Turki Almadhi
Uzair Malik
Vatsal Panchal
Victor Gentis
Vidhi Zala
Vignesh Ganesan
Vikram Ganesan
VINNY MITTAL
Vishnusaprad Srinivasan
Vitelio Silva
Vivek Hari
Vivek Jogia
Vivek Pararrya
Wildivina Rosario
WIlliam Lauderdale
Yagniv Surani
Yash Patel
Zuochen Duan
Apply for an IAC Assessment
Specific Eligibility Requirements*:
Must be a US Manufacturer
Yearly Energy Bills:

Greater than $100,000
Less than $2,500,000

Within 150 miles of an IAC
*For special cases, certain requirements may be waived.
Final client selection is left to the discretion of the individual IAC center.