IAC Center of the Year:
2022
The University of Missouri-Columbia Industrial Assessment Center (MZ-IAC) provides free energy, productivity, and waste assessments to small and medium-sized industrial facilities through funding provided by the US Department of Energy.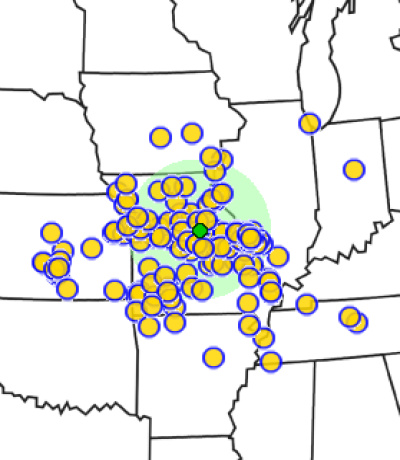 University of Missouri-Columbia also coordinates a Satellite IAC Center at:
Wichita State University
Energy Engineering related programs, degrees, etc:



Related
Papers & Publications
Wu, B. and J. Abad, "
Model of Collaboration to Promote Energy Efficiency
, 2013 Int. Academic Conf., Paris, Paris, |
MZ-IAC
Wu, B., Sandina Ponte and A. Khoshkhoo, "
Computer-Aided Adaptation of Superior Energy Performance and ISO50001
, 2013 International Academic Conference, Paris, |
MZ-IAC
Noteworthy Feedback
"I wanted to take the opportunity to provide you direct comment regarding the University of Missouri – Midwest Industrial Assessment Center (MIAC) and the professionalism, exemplary assessment work and collaborative teamwork results conducted by Sanjeev Khanna, PhD and his staff at the Gateway Alum..."
more
- Source: Glen Lewis, Senior Program Manager, 08/12/2023
"IAC and the DOE have been critical to help ensure the continued success of local manufacturing by ensuring continued improvement for facilities and utility consumption. Avail Switchgear Systems is proud to have them as partners and aims to continue that partnership to provide a more sustainable busi..."
more
- Source: Grahm Meyer, AZZ Swichgear Systems, 06/08/2023
"Thank you for you and your students' work on this report. We have a few new leadership roles at White River that are keen on reducing energy consumption at the plant and supporting creative solutions. Even if we did not complete the entire recommendation list this year, we will definitely referenc..."
more
- Source: Hannah Wilson, Facility Sustainability Manager, 03/27/2023
Related
Papers & Publications
Wu, B, "
The Complete Cycle to Institutionalize Energy Efficiency – Conceptual Framework, Tools, and Industrial Cases
, Proceeding of Annual Conference of ACEEE, June, Niagara Falls, |
MZ-IAC
Wu, B, "
How to improve energy efficiency in the manufacturing sector
, Annual MUPA conference, |
MZ-IAC
Wu, B., Story, J., Tara O'Hare, "
Win, Win, Win: Integrating Lean, Clean and Energy Assessments,
MEP National Conference, Orlando, |
MZ-IAC
Noteworthy Feedback
"I wanted to take the opportunity to provide you direct comment regarding the University of Missouri – Midwest Industrial Assessment Center (MIAC) and the professionalism, exemplary assessment work and collaborative teamwork results conducted by Sanjeev Khanna, PhD and his staff at the Gateway Aluminum plant. I and the Packaging Matters and Gateway Aluminum management staff were very impressed with the knowledge, identified energy efficiency opportunities and recommended path forward provided by Dr. Khanna and staff. It was clearly evident why the MIAC is recognized as a top entity in the US Department of Energy – Industrial Assessment Center structure. We look forward to working with the MIAC on the next steps in implementing the assessment recommendations."
- Source: Glen Lewis, Senior Program Manager, 08/12/2023
"IAC and the DOE have been critical to help ensure the continued success of local manufacturing by ensuring continued improvement for facilities and utility consumption. Avail Switchgear Systems is proud to have them as partners and aims to continue that partnership to provide a more sustainable business for our local community. The impact of the assessment and involvement from IAC and DOE at our facility is sending ripples of communication for other improvement initiatives and suggestions that help spark further advancement. In terms of the IAC Students, we heavily enjoyed the personnel present at the facility would highly welcome any expressed interest in any positions or potential internships in the future."
- Source: Grahm Meyer, AZZ Swichgear Systems, 06/08/2023
"Thank you for you and your students' work on this report. We have a few new leadership roles at White River that are keen on reducing energy consumption at the plant and supporting creative solutions. Even if we did not complete the entire recommendation list this year, we will definitely reference the report in years to come."
- Source: Hannah Wilson, Facility Sustainability Manager, 03/27/2023
"Thank you for bringing the students and performing the study. The ideas your team presented helped us to take a deeper dive on what we do for large scale projects. The return on investment was very helpful when determining what projects we would look at doing first."
- Source: Denise Gordon, EHS Manager, Parker Hannifin, 03/15/2023
"Thank you, Sanjeev. Like the report with the equations listed."
- Source: Mark Lenling, Corporate Environmental Health and Safety Supervisor, 09/22/2021
"This report has been very comprehensive and an interesting read on my part as one of the suggestions was hydropower that I have not heard about at a Wastewater Treatment Facility. I am very impressed with the report."
- Source: Lynden Lawson, Assistant Director of Public Works for Operations, Turkey Creek Wastewater Plant, 07/07/2022
"I want to thank you and your team for the time you spent on this. You have been very helpful in identifying issues for us to work on. The projects we have going on currently all have energy savings in mind and we have seen a reduced load in our electrical."
- Source: Stephen Pollock, Plant Manager, J. M. Eagle, 03/21/2022
"Dear Dr. Khanna, Your recommendations were greatly appreciated. 1. While not all are completed, most them have at least been initiated. 2. Reasons we haven't accomplished more on your recommendations: a. We've grown our sales an average of 15% each of the last few years and have a plan for 35% growth in 2022. So we have a lot of priorities right now. b. We've navigated a pandemic that has had tremendous impact on nearly every aspect of our business. Market shifts, supply chain disruptions, rapidly changing costs…to name a few. Once again, thank you for your help and advice. Regards, Carl"
- Source: Carl Brenden, COO, 12/14/2021
"I would like to take a moment and express my gratitude to you and your students for completing the energy audit at our manufacturing facility. Your team was polite, professional, knowledgeable, curious, safety-conscious, and resourceful in determining areas of improvement. I appreciate the feedback we received on your very detailed report. We will use it as a guide as we move forward in our efforts to reduce energy waste. I would highly recommend your group to other facilities looking to improve their processes. Your team identified issues we've had for years but have never taken a step back and realized on our own. Thank you again for the audit, detailed report, and recommendations for our facility. Job well done!"
- Source: Travis Fulks, Superintendent, 02/20/2021
"We felt that that the audit was very thorough when exploring energy savings for the facility. Many of the ideas had never been considered previously in our efforts to increase efficiency."
- Source: Matt Mulzinger, Hannibal Water & Wastewater Plant, 08/04/2020
"Hi Dr. Sanjeev, Thank you for the work you and your team performed for Melton Machine & Control Company (MMCC). The assessment report for our facility was very comprehensive and outlined very specific and practical ways to save energy. Our personnel that worked with you and your team learned a lot from the process and the assessment report. Subsequent from your visit, MMCC made the decision to build a new facility and relocate. This was a large undertaking and was recently completed this year. Many the recommendations in the assessment were incorporated into the design of the new building. Some of the recommendations implemented include: a) Using a venturi nozzle instead of a compressed air nozzle in our paint booth operation, b) using occupancy sensors in all areas of the building, c) installation of a high efficiency variable air volume (VAV) HVAC system, d) incorporating the ability to redirect outside air for compressor air intake, e) the use of cog belts on motors vs. smooth v-belts, and f) increasing the A/C temperature setpoint in the manufacturing area above 72 degrees Fahrenheit. In addition, we have also been able to incorporate some of your recommendations at our 851 Vossbrink facility as well. Specifically the installation of occupancy sensors in low use areas and the replacement of smooth v-belts with cog belts. We are currently considering replacing our older HVAC units with newer models. Thanks again for performing the audit of our facility and developing the assessment report."
- Source: Stacy Lindsey, President, Melton Machine & Control, 10/26/2020
"Good Morning Sanjeev, Appreciate you and your team's hard work on this. Look forward to implementing some of the items you presented. Thanks Logan "
- Source: 06/13/2019
"Thank you , this is great work."
- Source: Jeffery Ostermann, Director - Operations, 08/19/2019
"Jan. 7, 2020: Working with Sanjeev and his students was nothing short of professional and educating. From the first interaction with the students you could tell that there was real interest in the work that they were doing. The areas that they indicated improvements and the estimated cost savings made it really easy to justify the costs of the upgrades. I would highly recommend this group to any company or cooperation looking to modernize and become more efficient with the energy they consume. March 29, 2019: I have printed and briefly went through the review. This is a great amount of work and am excited to thoroughly read through this and look at how we can save money on electrical consumption as well as water. I will provide some feedback/comments after I go through it completely. Thank you very much again for the diligent work you and the students have put into this I greatly appreciate it. Best Regards, Joshua B. Youngblood Asst. Water Quality Superintendent-Wastewater"
- Source: Joshua Youngblood, Assistant Water Quality Superintendent, 01/07/2020
"Sanjeev, We here at SAI would like to say "Thank You" to you and your students for the outstanding job they did evaluating our facility. They came in and got right to work, detailing out every aspect of our energy and utility usage. The final report that was generated was very detailed and gave us some great ideas to reduce costs and emissions in our facility. This type of practical hands on experience is a great learning tool for the students and it also gives us another set of eyes looking at the processes and generating new ideas. We have already started the process of implementing some of these cost saving ideas into our facility. We appreciate all your time and effort the students put forward on this project. "
- Source: Mark Kuhaneck, Maintenance Manager, Swisher Acquisition Inc., 11/04/2019
"Thank you Sanjeev! I have been going through the report. It is very comprehensive! The audit team from University of Missouri Columbia did a fantastic job of learning our operation and identifying some key projects for our facility to become more sustainable. The knowledge they bring is invaluable. Although some of the projects identified have not been completed to date, they are still being investigated for costs versus budget available to implement. I really enjoyed working with them and would recommend their services to anyone interested in sustainability and reducing your carbon footprint."
- Source: Chris Heisterberg, Facilities Manager, Silgan Dispensing, 08/22/2019
"Sanjeev, This audit is very well done. Not only does it provide Dean Foods with sustainability projects and the savings calculations use for project justification, it also provided your students with real world hands-on experience. I support the O'Fallon plant from a corporate engineering function, so when Randy presented your idea to perform the audit I thought it was a great fit with our sustainability objectives. Dean Foods, like many organizations today, is being asked to dig deeper for sustainability and cost savings projects, so this audit will allow us to fill the pipeline. Randy and I will get together to look over the projects and discuss possible timelines for completion. Thanks again for teams work. "
- Source: Jerry Brunner, Director, Regional Engineering - North Region, Dean Foods, 08/30/2018
"Bhuvnesh wrote: Thank you, Dr. Khanna, it was a pleasure for our Mascoutah team to learn the techniques of energy assessment from you. Amy wrote: Thank you and your team for the onsite assessment and providing the detailed report; I have filed the report and intend to visit each recommendation and request action to implementation opportunity. I thoroughly enjoyed having your students and the length of detail to supply Legrand Cablofil with sustainability projects that identifies the cost savings and energy reduction efforts maximum impact. Legrand Cablofil is committed to setting objectives intended to improve our environmental performance by taking action to protect the environment, meeting compliance obligation and continually improving. Thank you for your support in those efforts and reaching our sustainability and energy reduction goals."
- Source: Bhuvnesh Joshi, Amy LeMay, Energy Engineer, Environmental Health Safety Manager, Legrand, 01/03/2018
"Thank you and your professional students for the collaborative time auditing and understanding our facility which provided excellent assessment recommendations in which to reduce operating cost and the subsequent CO2 emissions. I would be interested in a follow up that shows expected annual savings from what we have done or expect to complete by year end."
- Source: Vince Gochenauer, Plant Manager, Silgan Containers, 06/20/2018
"This is a very comprehensive energy report. Very well stated through careful engineering calculations. I am glad to see that all data used were true and within range. Savings calculated are realistic and initial cost were low. Bottom line is, I like your approach of evaluating what we have and figuring out how to manage the equipment to yield higher throughput in relation to operating cost before any expensive upgrade implementations. (by Khanna: this comment relates to the battery cooling AR #9, I had suggested that they should first conduct an experiment on a small table that mimics their larger scale production) I truly appreciate the effort and hard work of you and your team. I assure you that most of these, if not all, recommendations will be implemented in our facility and perhaps to all JCI plant across NA. Moving forward, my team will develop an action plan to start implementing these recommendations. I will definitely call you if we have some questions. Thanks for the help. Please extent my appreciation to your team. "
- Source: Greg Gelbolinga, Engineer III/CI, 07/31/2017
"Received July 1, 2019: Sanjeev, Attached is a summary of our electric usage over the last two and a half years. We implemented several recommendations from the energy audit during June of 2018. As you can see, the savings have been material. Thank you for your help with our energy issues. We would like to continue to work with you on these type of programs in the future. Peter Hofherr --------------------------------------------------------------------- Sanjeev, We are very appreciative of your work with the students on the audit. I thought the team did a great job! We are actively putting together the financing packages for several of the recommendations. Many of the projects are part of our overall sustainability initiative on campus. We would love to continue the relationship as we are always trying to figure out how to do what we do better and more efficiency. If you see opportunities in the future to work with together, will you reach out? Regards, "
- Source: Peter Hofherr, Chief Executive Officer, St. James Winery, 04/06/2018
"Working with Sanjeev's team was a delight. They were knowledgeable, professional and asked great questions to understand our process completely before generating a report with suggestions. The report highlighted some improvement areas that we had not thought of yet which was fantastic. Thank you very much for your time to help us continuously improve our energy reduction plans."
- Source: Christina Stage, Lean Manager, Silgan Plastic Food Containers, 01/11/2018
"The report looks great! Very detailed and payback calculations make it easy for our team to prioritize. We are planning to discuss it tomorrow in our weekly management meeting and come up with an action plan to start getting some of the improvements underway. I will let you know how things progress. It has been a real pleasure working with you and your team. "
- Source: Duane Clonts , Maintenance Manager, 05/19/2017
"The audit process is valuable to help understand the highest areas of benefit and to allow us to get a outside perspective on the projects we should focus on. We have been able to start projects earlier by having the energy savings to justify the projects. "
- Source: Glen Kloeppel, Project Engineer, 08/09/2017
"In relation to our audit, we also recommended to the company for a MoIAC student internship to follow up with the implementation of the recommendations. As a result, Austin Laramie, a MoIAC student and at the time also enrolled in Bin Wu's "Industrial Energy Efficiency and Management (MU IMSE 4580)" class, was employed during the summer by the company: According to the company: " (the MoIAC student) helped to go through the details of every recommendation on the list. This worked great!" From the student (Sep 25, 2017): "Dr. Wu, The IAC program I was involved in was fantastic experience in a very important area of Industrial Engineering. Learning how to directly identify improvement areas in energy efficiency in a factory was great knowledge that can be used generally wherever my degree takes me in industry. Any time I walk into a new manufacturing facility I can immediately recognize energy that is being wasted or can be more efficiently utilized in the plant. Helping organize reports on the recommendations were also great practical application to showing upper-level management how the energy-savings investment is worth while based on a simple payback period from predicted utility bill savings. Your classes helped me grasp a deeper connection with how all of the units in energy efficiency come together to make calculations a breeze. Before taking your class I was clueless on the difference between a kilowatt and a lumen but now I could present these to a class of my own from all the practical experience and practice. Lastly, I can't thank you enough for helping me connect with Hunter Engineering Company which gave me a paid summer internship experience focusing directly on the subjects we talked about in class and did in IAC. From the start of the summer, I had no problems talking to my boss about lighting, air-conditioning, pneumatic, or other systems that was costing the company thousands of dollars in utility bills per year. I had the chance to represent multiple options for energy-saving improvements to their facility and exactly how much they were projected to save from each opportunity. Overall, the IAC program, your classes, and my internship with Hunter Engineering have all dramatically helped my professional industrial engineering skills to make me a better asset for companies in the future. I cannot thank you enough for your patience and believing in all my potential. Hope to see you soon, Austin Laramie Industrial & Manufacturing Systems Engineering University of Missouri - Columbia""
- Source: Tom Meyer, Vice President of Engineering & Materials, Hunter Engineering, 09/13/2017
""Your visit and report provided us with motivation and budget information to help us get these done. Thanks you very much for the work you've done.""
- Source: Rod Colhaun, Plant Manager, 03/29/2017
""Such a wonderful opportunity - you can use me as a reference anytime!" "Dr. Wu, Thank you for the follow up to the audit you and the students performed last year. I found the observations very insightful and relevant to our manufacturing operation. It was extremely helpful to learn how to quantify the savings. It is easy to overlook and avoid making the investments until you place a value on what it costs you in energy costs. Though we are unable to implement some of the items we've taken the first steps with trading out the light fixtures throughout the facility as suggested by your audit team. Best regards, Drew Dubray General Manger Koken Manufacturing""
- Source: Drew Dubray, Plant Manager, Takara Belmont, 03/29/2017
""Thank you very much for this report. ... I am quite impressed with the comprehensiveness of your study and recommended actions. I will be sure we get our team involved with evaluating this report and taking actions to improve our energy usage performance. ... Thanks again" (March 9, 2016). "The work you carried out was so relevant and useful, that it has inspired me to initiate a internship program here at our company." (April 6, 2017)."
- Source: Keith Moszczenski, Chief Operating and Fiancial Office, Schlafly , 03/09/2016
"Positronics Industries, Inc, has greatly benefited from the relationship that has developed with the IAC. The energy audit and assessment in which the IAC performed at our three Missouri facilities is part of our continuous improvement process of reducing and maximizing the energy used at these facilities. The audits have made us look at the feasibility of installing LED lighting, energy efficiency motors, and evaluating HVAC systems just to mention a few areas. The resulting cost savings can then be invested into the company. Having a relationship with the IAC provides Positronics Industries an additional partner in the journey down the path of sustainability and environmental stewardship. Another benefit is the information and techniques from the energy audits performed can be used to assess our other global divisions. This is a win-win situation. "
- Source: Scott Foley, Project Manager, 05/13/2016
""Hi Dr. Wu, Thank you for putting this together. We appreciate the time you and your team spent on this. We will review and get back to you with any questions and I will see if I can involve any other sites. Thanks again," Also feedback from one of the MoIAC student team member (Jeff Hoiday): "... I first want to thank you for introducing me into the world of energy efficiency and sustainable energy. The opportunity that you (IAC) provided was one that would change my outlook on the ever bearing question of what I want to do when I graduate. You opened the door for me to finally answer that question.""
- Source: Thomas Wagner, Production Manager, Nestle Purina, 06/25/2015
""Thank you so very much - this is an eye opener in many areas and I'm sure we will be able to use many of the recommendations going forward. We appreciate your willingness to do this for our company." Also, the following was sent by a IAC student (on 10/6/2015) team member who was involved in this and the other audits: "I just submitted my application for the IAC certificate request form, and I can not thank you enough for all that you have done for our IAC family the past few years. .. (the) energy efficiency class and being a part of the IAC team have truly been the most rewarding experiences of my college career. As I prepare to graduate in December, I look forward to taking everything ... about energy efficiency and apply it to the real world and be able to make a real impact wherever I end up. Being part of your team has been an amazing experience and more valuable than I can put into words. Thank you again for getting me involved with such a great opportunity. Nick Cain""
- Source: Annette Sachs, Cohen Architectural Woodworking, LLC, 10/08/2015
""We had very good feedback from our sister company that you audited earlier!""
- Source: Dan Hunzeker, Operations Manager, General Mills, 03/11/2015
""Dr. Wu Thank You for performing the Energy Audit at Car-Anth Mfg. last year. The audit provided valuable information to Car-Anth while gaining your team experience in performing audits. The Audit made Car-Anth aware of utilities being lost or wasted and therefore dollars being lost or wasted. The audit gave insight into some simple ways to save energy dollars.... Again, Thank You Dr. Wu and the University of Missouri Energy Audit team for the information given to us.""
- Source: Tom Dussoild, CEO, Car-Anth Manufacturing, 03/15/2016
""Am doing great. I have submitted answers below, with implementation dates. We very much appreciate you leading us in the right direction and as you see from the responses below, we have implemented a large amount of your recommendations. I am also in the process of applying for an Energy Star certification for the plant and will let you know if I need any info. or help. Thanks again for your help""
- Source: Aspen D'Costa, Operations Manager, Rubbermaid, 08/24/2015
""I am interested in a possible intern to focus on energy programs here, would this interest any student? Could be anytime for ?? how long.""
- Source: Jim Westerdale, Facilities Engineer, Maxion Wheels, Sedalia Plant, 08/26/2015
""Bin, Thank you again for a very interesting and productive visit today! ""
- Source: Brad Dickerman, Alsip Improvement Engineer, Arkema, 09/23/2014
""Dr. Wu, Please see my responses below, in red. As we discussed over the phone, you are welcome to visit and see the changes we have made. We would be honored to show you and your group our progress. Thank you,""
- Source: Shawn Torrez, Operations Manager - NKC, Arkema, 08/31/2015
""Hello Bin - My Maintenance team upgraded the building BMS controls in 2014. In Oct 2014, we tested & Nov refined the control. The results. In a same time comparison, the site used 814,229 kWh less Jan - May 2013 & 423,564 kWh less than Jan - May 2014. We implemented 1-3. 4 & 5 were not done." Update from the company's Sustainability Manager, On Dec 16 2015 Mr. Jeffery Whitford wrote: "I just wanted to reach out to let you know that we're in the very early stages of a major energy efficiency investment. Our business went through a major transition over the past few months as we were acquired by XXXX, Germany. There is an even greater focus on environmental sustainability and investment in energy efficiency. I expect that with this change we will be working on implementing the things you outlined in the coming year or two since we're looking a 3 year program that is probably in the range of a $5 - $15 M investment (coop - wide). Thank you again ....jw" "
- Source: Kurt McClellan, Jeffery Whitford, Environmental and Sustainability Manager, Sigma-Aldrich, 06/08/2015
"This audit has resulted approximately $400,000 annual saving through implementation of recommendations - very close to the estimation in as our report (company recorded 10% of savings out of $4.5M utility costs/year): "Good Afternoon Dr. Wu, ... I will update you on your findings during your team's energy audit at Piramal. It should also be noted that our plant has formed an "Energy Pillar Team" in an effort to achieve a level 3 status in our "Operational Excellence" program.... ... AR2. Our XXX furnace was repaired not long after your audit. This furnace is operating more efficiently. Our XXX Furnace is being scheduled for a repair in xxxx. AR3. I have initiated a quoted project using Ameren's rebate program. I currently have a proposal to install VFDs on all of our fans before our Corporate office awaiting approval. AR4. At present our XXX is down for a rebuild and upgrade. I also have an approved project through Ameren's rebate program to improve control of our compressors. This project includes leak detection and repair of our compressed air system. This project to be completed before November of this year. AR5. This is a viable suggestion which has yet to be implemented. AR6. This suggestion is part of the compressed air project mentioned above and will be implemented as funds become available. AR7. As belts are changed in the course of PM's, we are re-installing cogged V-belts. Estimate 50% of belts are now cogged. AR8. Resetting of thermostats for the most part has been accomplished. Problem with keeping unauthorized personnel from changing settings will have to be addressed. AR9. Photo-eyes have been installed and are working well. · Preliminary data shows electrical saving of about 10% over previous year with just the implemented items. · Our Energy Pillar Team is working to establish data collection with more detail. · I will stay in touch as more data becomes available. Sincerely,""
- Source: Dan Hoover, Plant Engineer, Piramal Glass, 06/08/2015
""Thanks for visiting our facility and completing the assessment. We need all the help we can get when it comes to energy reduction.""
- Source: Eric Sucha, Plant Technical Manager, General Mills, 03/11/2014
"On Jul 30, 2013, at 4:12 PM, Joe Kaufman <JKaufman@ofalloncasting.com> wrote: Dr. Bin Wu O'Fallon Casting would like to thank Dr. Bin Wu and the IAC team for the Assessment report that helped us to review the recommendations for Compressed Air, Broken Seals on Oven Doors, Insulating all of our steam pipes, heat recovery and replacing our old 1978 Boiler with a new efficient Boiler. These completed recommendations will result in actual cost savings, reduction in CO2 emissions, a reduction in electric and natural gas consumption. You and your team are always welcome at O'Fallon Casting. Thanks Joseph J.Kaufman Human Resource & Environmental Mgr. "
- Source: Joe Kaufman, HR & Environmental Manager, O, 07/30/2013
"Forwarded by John Smegal: "Simple feedback. Completely unsolicited. Kudos to Bin. John Smegal (11/29/2011)" From the company to John Smegal: "Thank you, I will absolutely keep you posted and as some feedback, I was impressed with the quality of the Versailles, MO energy assessment by the University of Missouri-Columbia compared with the result of some paid assessments at our other locations." "
- Source: Ellen Huang, Director, Environmental Affairs, Gates Corporation, 11/29/2011
"" ... thank you for taking the time to follow up. There was a lot of good information in the report that I have budgeted in 2011 to correct. Thanks again,""
- Source: Tim Wagner, Plant Operations Manager, Cott Beverages, 10/15/2015
""Dr. Wu, It was truly a pleasure to speak with you again. Please find the attached document which demonstrates we have reduced our KWH consumption by 13.9% (while producing more product) since your visit. Thanks again for your assistance and don't hesitate to call if you need any additional data. Jason C. Hamblen Ring Container Technologies Saint Joseph, MO""
- Source: Jason C. Hamblen, Plant Manager, Ring Container Technologies, 07/20/2011
""Dr. Wu,..., We appreciate everything your team has done for us; . ... (the IAC team) were very professional and thorough during their visit, and we very much appreciate you taking the time to do the audit. .... We wish all of your students luck, and it was an honor to have everyone here at our facility. Best regards,""
- Source: 05/08/2009
""Hello again. ... Since your last visit we have considerably reduced our energy consumption by over 25% and have plans in place to reach an 40% or more. Regards,""
- Source: Erol Artan, 05/09/2009
""Dear Dr. Wu, We appreciate the time and talents that you are dedicating towards the Energy Audit and Recommendations for Ceramo. ... Regards, Vernon L. Kasten, Jr. President and CEO" "
- Source: Vemon Kasten, Jr., President and CEO, Ceramo, 03/20/2008
""I have mentioned the program to our corporate CEO and of course he has encouraged us to submit the recommendations and start saving money. Thanks again for all of your assistance. I can assure you that we will be implementing your suggestions this year. Best Regards,""
- Source: Buddy Sebastiao, Plant Manager, CMI, 04/22/2008
Center Director
Sanjeev Khanna
Email
khannas@missouri.edu
Phone #
+15738849109
Mailing Address
E3412, Thomas and Nell Lafferre Hall, Mechanical & Aerospace Engineering Department
University of Missouri
Columbia, MO 65211
| | |
| --- | --- |
| Assistant Director | Deepak Gupta |
University of Missouri-Columbia has trained 228 students
The following students have participated in IAC assessments with University of Missouri-Columbia since 2007.
The 80 students (in BOLD) have also been awarded IAC student certificates for exceptional participation.
Abdul Syed
Abdun Khalid
Adam Blumhagen
Adam Byrnes
Adam Dkhili
Adam Reddy
Adithyan Babu
Ahad Hosseini
Ahmed Bagaber
Akhouri Amitanand Sinha
Alex Straughn
Alexsander Crowe
Ali Anvari
Ali I. Alhajji
Ali Khoshkhoo
Alvin Lemaiyan
Ananth Chandrasekaran
Andrew Labarge
Andrew Polizzi
Andrew Pollizi
Andrew Reinhard
Andrew Townsend
Anirban Sarkar
Anthony Iannicola
Anurag Bommara
Anurathi Rajavally
Aravind Sri Saravanan Sevvilam Parithi
Arockia Stephna Maria Das Anna Victor
Ashley May
Asif R. Raz
Audrey Wood
Austin Laramie
Babu Adithyan
Bahram Rajabi Far
Behnam Sabzi
BeiJia Yao
Ben J Simon
Benjamin Beer
Bichen Zhang
Bilal Hameed
Blake Price
Bradford Barnett
Brady Beckham
Brandon Beck
Brian Kenney
Brianne Mcnutt
Brohde Bennett
Candice Dussold
Caroline C. Langley
Caroline Junker
Celeste Blum
Chatchai Pinthuprapa
Chathura Wickreme Seneviratne
Chi Yang
Chitralekha Chakraborty
Christian A. Hoyos Broja
Christopher Wurzer
Colin McCarthy
Colm Barry
Connor Reed Walter
Curtis Singer
Daniel mcGarth
David Nunez
Dawei Li
Desiree Smith
Devi Vara Prasad Rayapaneni
Dian Trihastuti
Diarmait Ryan-Anderson
Divya Teja Pinnamaneni
Dong Yi
Dustin Smith
Dylan Eades
Edgar Olet
Eric Obermark
Evan King
Fengmin Su
Gabriel Ingram
Gargi Dashora
Gaurav Sangamnerkar
Gerhard Scheiders
Giridhar Pemmireddi
Graham French
Graham Walter
Gregory Allers
Gunjan Indapurkar
Haijun Li
Harrision CLark
Harrison Clark
Harsimranjot Singh Grewal
Hemant Tiwari
Huali Sun
Hui Zhao
Isacc S. Frieden
Isacc S. Frieden
Jack Dahlgren
Jack Schroeder
Jackson Meyer
Jacob Braddock
Jacob Daugherty
Jacob Gipple
Jake Myers
James Moore
Jared Hitzhusen
Jason Fox
Jeff Holiday
Jennifer McClelland
Jenny Lam
Jesse Schmidt
Jitendra Gottipati
Johathan Arnold
John B. Wibbenmeyer
John Dillard
John Russell Crutcher
Johnelle Landers
Jon Volpe
Jorge F. Abad
Juned Khakhi
Justin Krutewicz
Kaeshav Thirumullaivoyal Santhana Kumar
Katherine Harris
Katie LaChance
Krishna Bommisety
Krishna Chaitanya Bommisetty
Krishna K. Ramesh
Kristina Johnson
Kurt Ehlers
Kyle G. Morris
Kyle Messick
Lauren Haberer
Lihua He
Luke M. Eagan
Lydia Meyer
Maher Amer
Manoj Vejandla
Marcus C. Friedrich
Margaret Page
Marina Materikina
Marlon Taylor
Mary-Catharine Meriage
Maryam Nikouei Mehr
Maryam Shoaeinaeini
Matt Helm
Matthew Bliss
Matthew Jacobi
Matthew Raymond Preuss
McKenzie Morris
Meftah Uddin
Michael Porche
Micheal Koch
Milad Yarali
Mohammed A Rahman
Mohammed Alramis
Mostafa Sabbaghi
Narder Moustafa
Nate Gross
Nathan Koesterer
Nathaniel McGlaun
Navpal Singh
Nicholas Bowman
Nicholas Dandurand
Nick Cain
Nithin Reddy Nallamadhi
Nithisha Reddy Gudipati
Nitika Veronica Bonnerjee
Nolan Rachers
Osasu Osaze
Parsa Kianpour
Patrick Broyles
Pradeep Krishnamoorthy
Prashanth Sudhakar
Pratik Bharadwaj
Priyanka Kallu
Rahul Joshi
Rajesh Balajiveeraragavan
Ramkumar Harikrishnakumar
Ron Bowling
Rupesh Devapati
Ryan Kostos
Saad Alsamraee
Sahith Raaghav Sanike
Saman Gheytani
Sameera Withanachchi
Samuel Gall
Sandina Ponte
Sangeeth Sarukara
Saud Almadhi
Scott Shvartsman
Sean Flanagan
Shihchun Ho
Shivam Goswami
Shuai Ding
Sijing Zhu
Skylar Morris
Sourav Das
Spencer Thomas
Stephanie Arkinson
Stephanie Bunay Camba
Stephen Agee
Steven Chen
Steven Powell
Steven Velazquez
Sultan S. Al Nasser
Suraj Gurung
Suriya Prakash Jayachandran
Tao Qu
Tejas Adak
Thejaswini Kashyap
Tim Garnett
Tolulope Kudoro
Trevor Kline
Tyler Burns
Tyler S. Williams
Varun Sreejayan
Venkata Naga Likhit Peruri
Venkata Naga Likhit Peruri
Veronica Rueda Rey
Victoria La Rose
Vishal Mandal
Wade Foster
Wenbin Cui
Wenbin Wan
William Adams
William S. Riley
Yahya Alsulaim
Yaofeng Xue
Yunpeng Ren
Zachary Bargman
Zachary Quinlan