IAC Center of the Year:
2020
The University of Utah Industrial Assessment Center (UU-IAC) provides free energy, productivity, and waste assessments to small and medium-sized industrial facilities through funding provided by the US Department of Energy.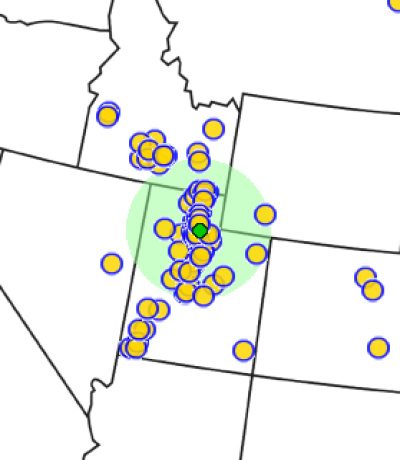 Energy Engineering related programs, degrees, etc:



Related
Papers & Publications
A Ho, M Memmott, J Hedengren, KM Powell, "
Exploring the benefits of molten salt reactors: An analysis of flexibility and safety features using dynamic simulation
, |
UU-IAC
Matthew R.T. Williams, Michael Reynolds, Chris Parker, Jianli Chen, Kody Powell, "
The impact of the electrification of buildings on the environment, economics, and housing affordability: A grid-response and life cycle assessment approach,
Digital Chemical Engineering, Jan 16, |
UU-IAC
Related
Papers & Publications
Center Director
Dr. Kody Powell
Email
kody.powell@utah.edu
Phone #
+18015813957
Fax #
+18015813957
Mailing Address
50 S. Central Campus Dr.
Rm 3290
Salt Lake City, UT 84112
| | |
| --- | --- |
| Assistant Director | Julie Sieving, P.E. |
University of Utah has trained 114 students
The following students have participated in IAC assessments with University of Utah since 2003, when student name tracking began.
The 52 students (in BOLD) have also been awarded IAC student certificates for exceptional participation.
Aaron Chambers
Abby Hall
Abe Kearl
Alex Jackman
Alexander Leopardi
Alexis Jenson
Ali Khosravani
Allen Neicosup
Andrew Hatch
Andrew Meldrum
Anne Dougherty
Anthony Vance
Ari Yue
Blake Billings
Brie Crofts
Brie Esplin
Brittany Pruneau
Brody Westberg
Brooke Yardley
Caleb Wray
Cameron Kelly
Carleigh Plate
Chris Landes
Christopher Hillam
Connor Clay
Connor Watson
Conrad Duerr
Creed McCord
Dan Youngberg
Daniel Luis Moreno
Debbie Gale
Derek Machalek
Doug Crawford
Doug Voss
Elaheh Safaei
Ember Chadwick
Erik Mollinet
Giovanna Roth
Grant Jimenez
Haley Feten
Harrison Rea
Hyrum Davis,
Isaac Hale
Jace Callor
Jake Immonen
James Gessel
Jared Strebel
Jesse Reeves
Jesse Sorenson
Jessica Padron-Loredo
Jim Parry
Jiwei Yao
Joel Kongolo Ilunga
Kaden Plewe
Kari Keddington
Kathy LeBlanc
Kenneth Smith
Kevin Ellingwood
Kortney Shorts
Kristopher Issac Rydalch
Kyle Day
Landen Blackburn
Landon Crowther
Lesslie Moposita
Lizzie Pinegar
Mark Biesinger,
Mark Henry
Mark McPherson
Marla Aime Perez-Loredo
Mateo Ismodes
Maxim Balitskiy
Micale Ward
Michael Christensen
Michael Reynolds
Mike Chambers
Moataz Sheha
Mohamed Bahr
Moriah Henning
Nathan Jensen
Nathaniel Fairchild
Nestor Camacho
Paige Brimley
Paola Beltre
Parker Thomas Bodily
Pete Horseth
Quin Smith
Quinn Alleman
R.T. Williams
Radhika Bhakta
Rashid Bakare
Raul Rodriguez
Reed Ogden
Rick Walker
Ron Carrasquel
Russel Olsen
Russell Flynn
Ryan Hart
Ryan White
Sai Pandit
Samuel Partridge
Shoko Imamura
Stephen Denton
Susan Philyaw
Tess Jorgensen
Thomas Kuhrke Limia
Thomas Tran
Tofigh Sayahi
Tom Fairbanks
Treyton Shumway
Will Chatwin
William Brett Graham
Yunju Lee
Yunzhi Chen
Zachary Freedman