The University of Illinois, Chicago Industrial Assessment Center (IC-IAC) provides free energy, productivity, and waste assessments to small and medium sized industrial facilities through funding provided by the US Department of Energy.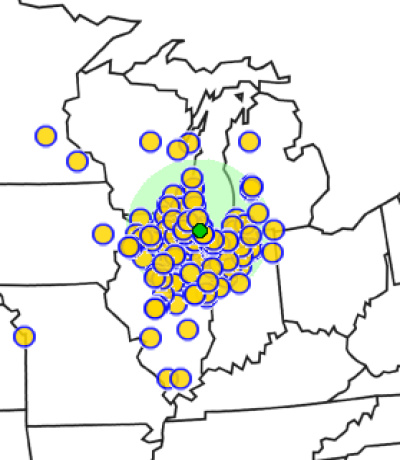 Energy Engineering related programs, degrees, etc:



Center Director
Lin Li
Email
linli@uic.edu
Phone #
+13129963045
Fax #
+13124130447
Mailing Address
842 W Taylor Street
Chicago, IL 60607
| | |
| --- | --- |
| Assistant Director | Clifford Haefke |
| Assistant Director | Patrick Brown |
University of Illinois, Chicago has trained 126 students
The following students have participated in IAC assessments with University of Illinois, Chicago since 2003, when student name tracking began.
The 56 students (in BOLD) have also been awarded IAC student certificates for exceptional participation.
Aaron Hart
Abhinav Ramesh
Aditya Patki
Adriana Garcia
Agata Chmiel
Agnieszka Szudy
Ahmad Peyvan
Akshay Patil
Alora Moore
Amaan Laheri
Andrea Nehrbass
Andrew Sheaffer
Andrey Gribovich
Anna Nawara
Anuj Ghildial
Anvesh Masa
Aravindh Murali
Arturo Hernandez
Arvind Vaitheeswaran
Avelino DeVeyra
Azadeh Haghighi
Beulah Orogun
Blaise Steele
Borko Andric
Brennan Downes
Brian Clark
Brian Malone
Bridget Talbot
Carl Lowendorf
Cassandra Rosa
Charles Nganga
Chris Heckert
Christian Gonzalez
Clint Vericker
Dan Hollenbach
Dave Kulikowski
Dave Lichtenfeld
David Eslinger
David Garon
Diego Velez
Dima Alfawakhiri
Douglas Bright
Dylan Mathews
Erik Peterson
Ezgi Takmaz
Fadwa Dababneh
Fahad Salman Syed
Fakrogha Porbeni
Freddy Avila
Grace Junge
Isaac Banes
Jaime Frausto
James Gilbert
Janhavi Datar
Janik Somaiya
Jeremy Hass
Jian-Yih Cheng
Jim Gibson
Jim Lyon
Joanna Zamiechowska
Joe Parkinson
Jonathan Aardsma
Jonathan Perthel
Jonathon Arana
Joseph Marasso
Kate Merrill
Kenny Hultquist
Kevin Kunkel
Kevin Kunkell
Konrad Lach
Krista Sutton
Kyong Chang
Lingxiang Yun
Lois Kwon
Mansur Islamov
Mark Stine
Matt Darnell
Matthew Johnson
Matthew Swanson
Michael Poulopoulos
Mike Kittler
Milos Stefanovic
Minkun Xiao
Mohd-Salman Alimi
Montserrat Aguero
Muyue Han
Nebojsa Kisic
Nimesh Raje
Noel Corral
Parth Koul
Patrick OBoyle
Paul Nigro
Phillip Valenzuela
Piotr Czarny
Piyush Chitnis
Purvi Patel
Rahul Shah
Raymond Trelka
Rimzhim Mazumdar
Rishika Handa
Ritzi Salaum
Robert Miller
Rohith Bharadwaj
Rosie Galindo
Sahana Seshadri
Samantha Gutierrez
Sangram More
Scott Timme
Serena ODonnell
Shashaank Singh
Shirley Xiao
Shreenithi Lakshmi Narasimhan
Simon Nowak
Sourabh Ghodake
Stefano Galiasso
Steve Spentzas
Steve Zsinko
Tara Ceasario
Timothy Johnson
Vijay Viswanathan
WaShawn Brooks
Xochitl Menchaca
Yang Nie
Yin Ling Ng
Yiran (Emma) Yang
Zunya Shi
Apply for an IAC Assessment
Specific Eligibility Requirements*:
Must be a US Manufacturer
Yearly Energy Bills:

Greater than $100,000
Less than $3,500,000

Within 150 miles of an IAC
*For special cases, certain requirements may be waived.
Final client selection is left to the discretion of the individual IAC center.