Implementation Grant Funding Opportunity Open
IMPORTANT: The grant program now operates on a rolling basis and applications may be submitted at any time through the year, with quarterly reviews starting with December 31, 2023
Implementation Grant Funding Opportunity Open
Qualifying* small and medium-sized US manufacturers, that received IAC or Combined Heat and Power Technical Assistance Partnership assessments between 2018 and 2023, can now apply for grants for implementation of assessment recommendations up 50% of qualifying* project costs with a maximum of $300,000 per manufacturer.
IMPORTANT: The grant program now operates on a rolling basis and applications may be submitted at any time through the year, with quarterly reviews starting with December 31, 2023
*See Full Grant Solicitation for full qualification and selection details.
University of Louisiana, Lafayette is no longer an active IAC Center
LL-IAC is no longer active
IAC Center of the Year:
2008
The University of Louisiana, Lafayette Industrial Assessment Center (LL-IAC) provides free energy, productivity, and waste assessments to small and medium-sized industrial facilities through funding provided by the US Department of Energy.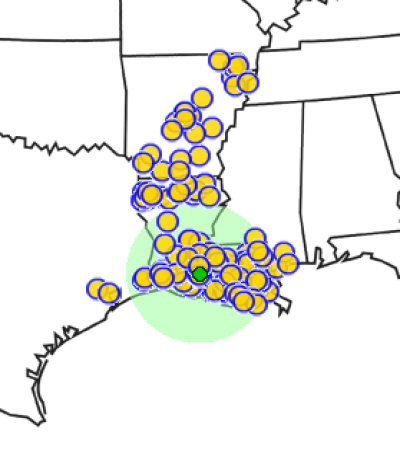 Assessment -
Case Studies
University of Louisiana, Lafayette has trained 58 students
The following students have participated in IAC assessments with University of Louisiana, Lafayette since 2003, when student name tracking began.
The 22 students (in BOLD) have also been awarded IAC student certificates for exceptional participation.
Aaron Artigue
abeshek
Al Herry Meliala
Alvin Rachal III
Amanda Marchand
Barry Dinvaut
Bimal Kaur
Blakeley Blanchard
Bria Wheeler
Brittany Aulds
Carlos Castro
Chad Olsen
Charles Riggs
charles woods
Chris Reynolds
Christine Hymel
Christopher Pechon
Clay Guillory
Daravy DeRouen
Francisco Rivera
Grant Cavalier
Jason Bourgeois
Jason Boyer
Jeanese Carrier
Jeff Brent
Jenna Hage
Jeremey Sommers
Jeremiah Pastor
Jeremy Summers
Jerome Viator
Jesus DaCosta
John Pechon
Jonathan Newman
Keith Stutes
Kelly Guiberteau
Kirk Yuvamitra
Korakot Yuvamitra
Mathew Bordelon
Maxwell Dugas
Melissa Budden
Mindy Gennuso
Myles DeRouen
Nikki Dehart
Nikki Klein
Phillip Dufrene
Puneet Bhatia
Rebekah O'Quin
Rilee Dupuis
Robert Jones
Ross Mestayer
Ryan Kelley
Saul Hernendez,
Shane Monete
Shawn McNeil
Steven Engelbrecht
Tanuj Gulati
Thomas Wolfmueler
William Cody Verret